Home
September 8, 2011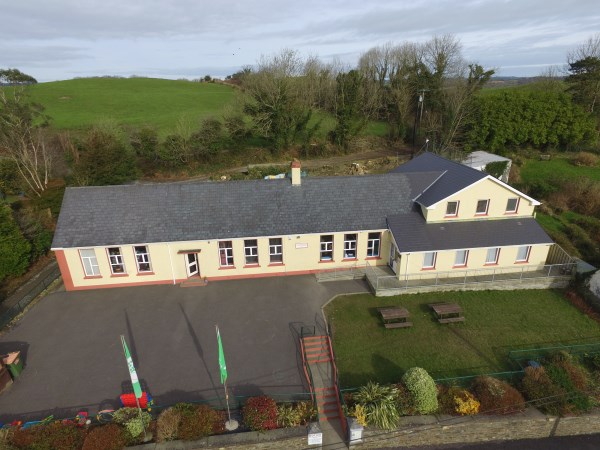 Welcome to the official home page of Ballinacarriga National School
Ballinacarriga National School is a mixed primary school situated to the South East of Dunmanway town. We aim to create a school where all children are valued and respected in a happy, secure and challenging environment.
We currently have 102 children enrolled in our school. We have 5 classroom teachers, 1 Special Education Teacher, 1 visiting teacher, 1 Special Needs Assistant and a secretary.
We are an active school that participates in many sports such as football, hurling, camogie, rugby, gymnastics, swimming, dance, basketball and soccer. We have 5 Green Flags. We also have the Junior Entrepreneur Flag, Active Flag and Amber Flag.
We take part in many other activities such as debating, drama, quizzes, yoga, meditation, tin whistle, guitar, Christmas musicals/plays, carol services and much more.
This school year 2022/23, we are concentrating on Maths, Science Blast and STEM engineering, as well as our fantastic Christmas play, Cinders and Sherlock.
A Note from the Principal, Róisín Hurley.
As principal of Ballinacarriga NS, I am so appreciative of the hard work and goodwill of the parents, pupils, staff, Parents Association and Board of Management. I would like to thank them for their continued support.
"Gach dalta mar oiltear" – Every student is as he is trained.
Welcome to Ballinacarriga NS
Latest News & Upcoming Events
School Calendar 2023/24
Return to school on Wednesday 30th August 2023
(New Junior Infants can be collected at 12.30pm from 30th August-13th September 2023)
October Mid-term: school closed – Monday 30th October – Friday 3rd November 2023 inclusive
Christmas Holidays: School closes Friday 22nd December 2023 at 12pm and re-opens Monday 8th January 2024
February Bank Holiday: Monday 5th February 2024
February Mid-term: school closed – Thursday 15th & Friday 16th February 2024
Patrick's Day: Monday 18th March 2024
Easter Holidays: School closes on Friday 22nd March 2024 at 12pm and re-opens Monday 8th April 2024
May Bank Holiday: Friday 3rd & Monday 6th May 2024
June Bank Holiday: Monday 3rd June 2024
Summer Holidays: School closes Friday 21st June 2024 at 12pm
Our Official Opening times are
9.10 am-1.50 pm (Junior and Senior Infants)
9.10 am-2.50 pm (First Class-Sixth Class)